SI: SINGLE IMPLANT
TransFasten is a single implant biologic fusion.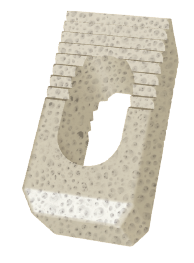 1
Migration Resistant Tooth Pattern
3
Machined Cortical Allograft
(Hover for more information)
PRECISION MACHINED STRUCTURAL ALLOGRAFT
One size implant – 10mm (W) x 10mm (H) x 20mm (L)
Precision machined for ideal compatibility with Quadracentric Joint preparation
Large trans-joint graft window accommodates true biologic fusion
PROPRIETARY QUADRACENTRIC SI JOINT PREPARATION
TransFasten Posterior SI Fusion System represents a form of Mortise and Tenon stabilization of the SI Joint.  This is an established method of Architectural Stabilization we call QuadraCentric™ joint preparation. TransFasten decorticates both sides of the joint for a biologic fusion allowing for posterior graft placement.
When your surgeon uses this posterior approach to sacroiliac (SI) fusion, TransFasten potentially reduces operative time and neurovascular complications.
The geometry of the TransFasten implant across the joint is designed to stabilize the motion segment without disrupting the anatomy and creating new pain generators.