TransFasten® Posterior SI Fusion System
Captiva Spine, Inc., developer and distributor of intuitive spine fusion devices, announced today they received a "Notice of Allowance" by the United States Patent and Trademark Office (USPTO) for their patent on a novel posterior sacroiliac (SI) joint fusion System named TransFasten. Specifically, the system's precision form of Quadracentric™ carpentry which prepares the sacroiliac joint intended for an easy, safe, and repeatable SI joint fusion surgery.
"Recognizing the growing adoption of SI fusion procedures, we are committed to the continued development of differentiated and proprietary devices that clearly provide incremental improvement. This patent marks another milestone for Captiva Spine's growing patent portfolio," said Dale Mitchell, President of Captiva Spine. "TransFasten's form of carpentry is truly aligned with key principles of achieving ease of use, stabilization, and fusion while utilizing a safe posterior approach."
Posterior SI Joint Fusion – Proprietary Technique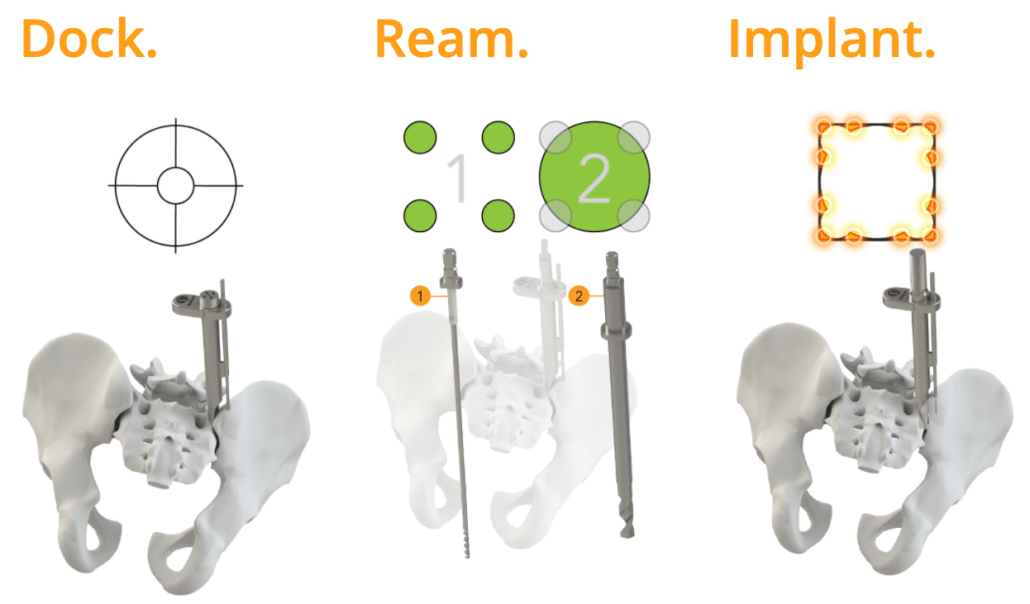 "…many will bring this procedure to their practice simply for the safety of the posterior approach coupled with this unique approach to SI joint fusion site preparation."
The TransFasten technique is intended to provide stabilization of the SI joint, with minimal disruption to anatomy, in a minimally invasive procedure. This patented Quadracentric site preparation is a form of mortise and tenon carpentry and requires one implant; many other systems require multiple implants or large screws. TransFasten is a precision-machined allograft with a large graft window that precisely fits within the sizeable cross-joint decortication for creating a biologic fusion. This posterior procedure provides a safe approach to dock minimal instrumentation. It prepares the SI joint site which includes the richest proliferation of osteogenic cells while placing the implant in a predetermined position. Altogether, TransFasten may potentially reduce operating room and fluoroscopy time.
"As Captiva Spine continues to introduce TransFasten, many will bring this procedure to their practice simply for the safety of the posterior approach coupled with this unique approach to SI joint fusion site preparation," said Dr. Robert E. Lins, The Center for the Bone & Joint Surgery, and inventor of TransFasten. "Because the sacroiliac joints transfer forces from the upper body to the lower extremities, they are subject to trauma and chronic degenerative changes. I truly believe the TransFasten procedure will enable the medical community to better serve their patients suffering these degenerative changes in the future."
Inquiries from physicians and industry professionals looking to incorporate intelligent and innovative technologies into their offerings are always welcome. Captiva Spine can be contacted directly by phone at 561-277-9480.
About Captiva Spine, Inc.
Captiva Spine is a privately-owned medical device organization founded in 2007. Captiva Spine supports spine surgeons, tenured spine distributors, and healthcare facilities in providing patients with progressive spinal care and an obsessive focus on quality; they strive to create and maintain sincere, honest, collaborative relationships. Above all else, valuing their relationships fosters the mutual trust and openness needed for Captiva Spine to be a conduit of high quality, smart, elegant, and intuitive patient solutions. Captiva Spine operates as a family of industry professionals that take pride in delivering these solutions responsibly and ethically while never losing sight of what they refer to as the Human Factor. Finding joy in their daily lives and serving the needs of their customers with sincere, professional enthusiasm.
This press release can also be found on OrthoSpineNews.com, OrthoWorld.com, Spine-Market.com, TheSpineMarketGroup.com, PRweb.com
https://transfasten.com/wp-content/uploads/2020/09/transfasten-posterior-si-joint-fusion-system-patented-quadracentric-sacroiliac-joint-site-preparation.png
731
1246
Captiva Spine
https://transfasten.com/wp-content/uploads/2018/07/TransFasten-Posterior-SI-Fusion-System-Logo-small-01.png
Captiva Spine
2020-09-30 17:28:56
2020-10-06 13:30:25
Captiva Spine Granted New Patent in the U.S. for Unique Approach to Site Preparation for Posterior SI Joint Fusion Surgery